Dr. Dana Houck has practiced as a Jungian psychotherapist for the past twenty-five years. He holds a B.S. degree in Sociology and Geography from South Dakota State University and an M.A. and an Ed. D in Counseling Psychology from The University of South Dakota.  He has also obtained Master of Divinity and a Doctor of Ministry degree. He currently is a Licensed Professional Counselor in South Dakota and a Licensed Professional Clinical Counselor in Minnesota.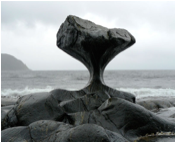 In addition to his private practice, he has worked as a psychologist at the Developmental Center – Redfield, South Dakota and at a Correctional Facility in Minnesota.  While at the Minnesota Correctional Facility he provided individual and group therapy to Inmates helping them become caring and productive members of society.  He is also a licensed School Counselor in the State of Minnesota providing group and individual therapy to students of all ages.  He has worked with children, adolescents and adults in many settings.
Dr. Houck has found Jungian psychotherapy to enhance his deepest beliefs.  Dreams help create a live worth living and connect people to their spiritual life at the deepest level.