I have practiced as a Jungian psychotherapist for the past twenty-five years. I hold a B.S. degree in Sociology and Geography from South Dakota State University and an M.A. and an Ed. D in Counseling Psychology from The University of South Dakota.  I have also obtained Master of Divinity and a Doctor of Ministry degree. He currently is a Licensed Professional Counselor in South Dakota and a Licensed Professional Clinical Counselor in Minnesota.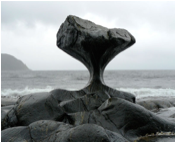 In addition to my private practice, I have worked as a psychologist at the Developmental Center – Redfield, South Dakota and at a Correctional Facility in Minnesota.  While at the Minnesota Correctional Facility Iprovided individual and group therapy to Inmates helping them become caring and productive members of society.  I am also a licensed School Counselor in the State of Minnesota providing group and individual therapy to students of all ages.  I have worked with children, adolescents and adults in many settings.
Through my own struggles I have found Jungian psychotherapy to enhance my deepest beliefs and outlook on the world.  Dreams have helped me create a life worth living and to my spiritual life at the deepest level.  It was a way through the Darkest of Nights and through life's messy parts and brought me to a new day on the other side.